Jurassic World: Dominion Dominates Fandom Wikis - The Loop
Play Sound
Gigantophis is a reptile in Additional Creatures.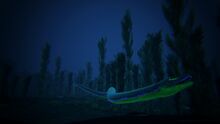 Synopsis
One of the largest snakes of our time and on the arks. Although a massive constrictor in life, Gigantophis has evolved into something far more terrifying on the arks. It is essentially, a gigantic Sea Krait. With Kraits back home boasting incredibly deadly venom, Gigantophis is the same, on a much more deadly scale. Gigantophis's potent venom and amphibious abilities make it a desired combat mount, with affinity for the ocean over land, and an extremely deadly venom which can prove deadly in the long run.
Color Regions
Color Region 2 - Inner Eye Spot, Patterns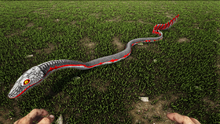 Color Region 3 - Outer Eye Spot, Underside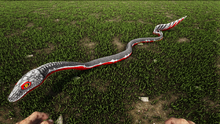 Color Region 4 - Spikes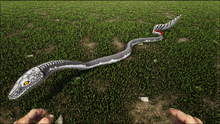 Color Region 5 - Dorsal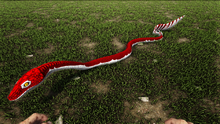 X Variant -
Color Region 2 - Underside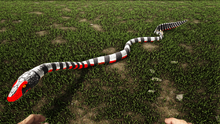 Color Region 3 - Pattern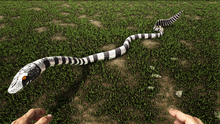 Color Region 4 - Dorsal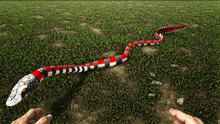 Color Region 5 - Stripes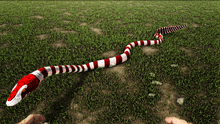 Base Stats, Controls, and Abilities
| Attribute | Base Stat |
| --- | --- |
| Health | 750 |
| Stamina | 654 |
| Food | 1380 |
| Water | 100 |
| Weight | 520 |
| Melee Damage | 162% |
| Movement Speed | 100% |
| Torpidity | 1800 |
Left Click - Bite
30 Base Damage - Has increased gather rate on fish meat - Inflicts Deadly Venom
Right Click - Hiss
C (Land) - Tail Swipe
50 Base Damage - Cannot Be Used While Moving
Out of water, Gigantophis's damage is reduced by 10%, speed is reduced by 50%, and its water stat begins to drain. When the water stat is under 100, the following effects occur:
Health and Stamina Drain Rapidly
Defense is decreased by 50%
Damage is reduced, again, by 75%
Notes/Trivia
Gigantophis means "Giant Snake".
Gigantophis lived in North Africa during the Eocene, 36 million years ago. It coexisted alongside other notable species such as Moerotherium, Phiomia, and Arsinoitherium.
Although initially claimed to be one of the largest snakes to ever live, only being surpassed by Titanoboa, it was actually more akin to a Burmese Python in size.
Gigantophis in life was a constrictor, and not venomous.
Gigantophis was originally planned to be able to produce biotoxin, but this was scrapped after being considered too powerful.
Gigantophis, since its original addition, has recieved a TLC. This TLC was purely cosmetic, giving it a unique model and animations.