Kryptops are dinosaurs in Additional Creatures.
Synopsis
A very rare medium-large theropod, Kryptops posses a powerful adaptation on the arks. Inside its mouth is a breeding ground for a caustic virus, which it has weaponized in the form of a gaseous breath attack. When infected, Targets enter a Rabies-like state, as their body begins to devour itself as they enter a fury. Victims of this "Kryptops Virus" gain drastically increased strength, but seem more susceptible to damage in the process. Now, what predator would gain an advantage from fighting a prey that it empowers? Kryptops itself seems to have actually entered a simbiotic relationship with the virus it harbors inside its body. With a target infected, the virus inside of Kryptops creates a signal that puts Kryptops's own bodily systems into hyperdrive. Its muscles and skin suddenly tighten as adrenaline begins to flow, vastly increasing its physical defense: giving it the strength and durability to combat its frenzied prey. Tamed, Kryptops is often used as a weapon of biological warfare. Its disease-spreading nature makes it an excellent choice for dealing with enemy mounts. Provided the right training, Kryptops can become a surprisingly bulky and defensive creature for its size, once it reacts properly to a frenzied target, making it excellent for stalling when needed, while still draining the target's health.
Color Regions
Male -
Color Region 0 - Mouth, Underside, Feet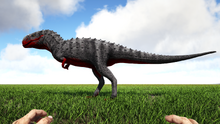 Color Region 2 - Main Body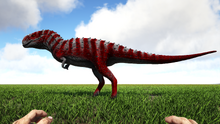 Color Region 3 - Lining of Osteoderms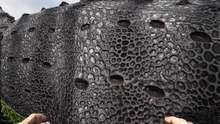 Color Region 4 - Osteoderms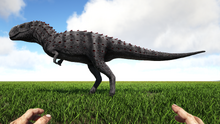 Color Region 5 - Crest, Stripes, Undertones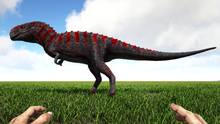 Female -
Color Region 0 - Main Body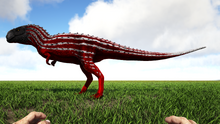 Color Region 2 - Head
Color Region 3 - Lining of Osteoderms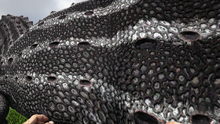 Color Region 4 - Osteoderms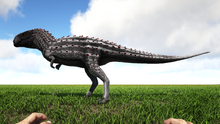 Color Region 5 - Head Spot, Stripes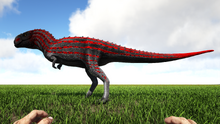 Base Stats, Controls, and Abilities
| Attribute | Base Stat |
| --- | --- |
| Health | 500 |
| Stamina | 300 |
| Oxygen | 150 |
| Food | 3000 |
| Weight | 400 |
| Melee Damage | 175% |
| Movement Speed | 100% |
| Torpidity | 2000 |
Left Click - Bite
45 Base Damage
Right Click - Viral Breath
20 Base Damage - Hits 15 Times - Inflicts Kryptops Virus - Cannot Be Used While Moving
C - Headbutt
45 Base Damage
X - Tail Swipe
20 Base Damage - Hits Twice - Gathers Berries - Cannot Be Used While Moving
Left Control - Roar
Spacebar - Jump
R - Sit
Automatically dismounts. The Kryptops can also generally be told to sit. This slightly increases healing rate.
Kryptops gains a "Viral Heal" buff being near those inflicted with the kryptops virus. The buff causes the kryptops to regenerate health, rapidly regenerate stamina, rapidly drain torpor, and have 25% increased defense.
Kryptops is immune to the kryptops virus, poison gas attacks, and venom.
Notes/Trivia
Kryptops means "Covered Face", in reference to the crest on its snout.
Kryptops is one of the earlier abelisaur species, living in Niger 115 million years ago. It coexisted alongside other recognizable species such as Sarcosuchus, Suchomimus, Ouranosaurus, and Nigersaurus.
While nearly all abelisaurs had heavily reduced arms, the Kryptops in Additional Creatures does not, albeit still having small arms. This was explained by it being a very basal abelisaur, which still leaves standard theropod arms a possibility.
Kryptops in Additional Creatures are sexually dimorphic, with males having vertical stripes and females having horizontal stripes.
The viral abilities of Kryptops are a reference to the Kryptops in Fossil Fighters.