Metriacanthosaurus is a species of dinosaur in Additional Creatures.
Synopsis
Metriacanthosaurus is a species of medium-sized theropod dinosaur often found on the beaches of island arks. Arguably the beach's top predator, one would expect Metriacanthosaurus to be a danger to new survivors. Well…it isn't in reality. Metriacanthosaurus seems to lack the ferocious behavior and bloodlust of other ark predators, becoming docile for a time after consuming a meal. As such, while Metriacanthosaurus is indeed a threat, it is less of one than a survivor may think, as a sated Metriacanthosaurus is completely fine with being approached- so long as it is not hungry! Smart survivors will take the opportunity to try and befriend a powerful partner and ally for their beginning and middle of their adventure.
Color Regions
Color Region 0 - Upper Body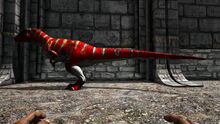 Color Region 5 - Underside and Various Markings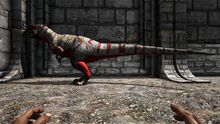 Base Stats, Controls, and Abilities
| Attribute | Base Stat |
| --- | --- |
| Health | 350 |
| Stamina | 300 |
| Oxygen | 150 |
| Food | 3450 |
| Weight | 400 |
| Melee Damage | 175% |
| Movement Speed | 100% |
| Torpidity | 2500 |
Left Click - Bite
30 Base Damage
Right Click - Frightening Roar
1 Base Damage - Drains 50 Torpor (w/ 1 Minute Cooldown) - Inflicts "Frightened" Status
The Metriacanthosaurus has a "hunger" mechanic, where once it has feasted on a corpse it will become neutral towards players and creatures. This pacified state is indicated by a green aura around its head, which is when it is susceptible to passive taming.
Notes/Trivia
Metriacanthosaurus means "Moderately Spined Lizard".
Metriacanthosaurus is a metriacanthosaur: a group of allosauroid theropods that're known for their relatively tall vertebra. Other metriacanthosaurs include Sinraptor and Yangchuanosaurus.
Metriacanthosaurus is one of three bearers of the hunger mechanic, along with Brachauchenius and the Tiger Shark.
The design of the Metriacanthosaurus is inspired by the Metriacanthosaurus in Jurassic World Evolution.