Sauropelta is a species of dinosaur in Additional Creatures.
Synopsis
Sauropelta currently holds the record for largest known Ankylosaur on the island. If you want to be specific, it's a species of Nodosaur: barrel-bodied ankylosaurs which often lacked tail clubs and focused on sheer durability and maximum armor. With a name that means "Lizard Shield", Sauropelta lives up to that name as one of the most durable creatures on the island. Well-mannered, almost nothing beats sauropelta when it comes to defense. Survivors value it both as a protective mount, a hauler of resources, and of course: an incredible tanking unit.
Color Regions
Color Region 0 - Body, Osteoderms, and Shoulder Spikes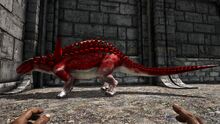 Color Region 4 - Lining on Back and Dorsal of Tail
Color Region 5 - Underside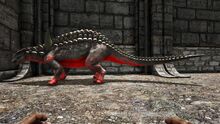 Base Stats, Controls, and Abilities
| Attribute | Base Stat |
| --- | --- |
| Health | 820 |
| Stamina | 220 |
| Oxygen | 150 |
| Food | 3000 |
| Weight | 520 |
| Melee Damage | 175% |
| Movement Speed | 100% |
| Torpidity | 1200 |
Left Click - Headbutt
25 Base Damage - Gathers Berries
Right Click - Stomp
35 Base Damage - Gathers Berries
C - Roar
Cannot Be Used While Moving
Sauropelta is immune to radiation, sandstorms, bleed, thornmail, and venom.
Sauropelta can turn in place.
Sauropelta is incredibly armored. It only takes about 50% of incoming general damage, 20% damage from fire, and projectiles hitting its back only do 4% of their normal damage.
The Sauropelta reduces the weight of stone, wood, and metal in its inventory.
Most smaller carnivores ignore Sauropelta.
Notes/Trivia
Sauropelta means "Lizard Shield".
The design of the Sauropelta is inspired by the Sauropelta in Jurassic World: Evolution.
Despite what is claimed in the mod, nodosaurs are a completely seperate branch of herbivorous dinosaurs that have armored bodies like ankylosaurs, but have spikes instead of club tails. Them and Ankylosaurs are still closely related regardless.
Despite the insane defenses, the reveal of countershading in a close relative, Borealopelta, suggests that Nodosaurs probably still had to worry about predators regardless of age.